Phoenix leak repair

Our emergency repair service in Phoenix will you help with any kind of leak (from roofs leaks to a burst pipe in your kitchen or bathroom plumbing). The most important thing we want you to know is why you can hire our repair experts with confidence and comfort. Not only will you be hiring a company with a BBB rating of A+, but we have outstanding recommendations from home owners, property managers, and insurance adjusters. You can even hear some of them by clicking here now: the best repair service in Phoenix AZ.

Finally, our entire emergency repair team is properly licensed and insured. That's a relief to know, right? Just contact us today and our emergency response team in Phoenix will assist you through the entire process: from the stopping the leak to any other needs you may have (like removing water, replacing broken parts, contacting your insurance company, testing for hidden issues, and even providing restoration services for any water damage or mold damage that your insurance provider will want our experts to repair for you).
Why to only get leak repairs from a licensed and insured company
You should only use licensed plumbers (or licensed roofers) to properly detect your leak, stop the leaking, and fix the source of the leak. Want to know why?

Most home owners in Phoenix are not aware of the specifics of their home insurance coverage (and are not properly cautious about the risks of undetected water damage). First, using an unlicensed emergency repair company can lead to your insurance company denying any repair claims based on negligent repairs by an unlicensed company. If you owned a business, would you hire an unlicensed person to be your delivery driver? Hiring an unlicensed repair company in Phoenix is just taking too big of a risk!


So, always hire emergency repair services that are both licensed and insured (because if there is any controversy about the quality of the work, you will have several "safety nets" in place so that you will not need to worry about who is going to pay for doing the repairs right). If the leak involves water from a toilet (including the pipes that flow away from the toilet to the sewer lines), then you should be even more cautious about who you let repair that leak!


You should only hire a leak repair company that respects that toilet waste water is not as clean as what you get out of most plumbing lines. The dark water from sewage pipe leaks can be even more contaminated. When you hire our emergency leak repair service in Phoenix, you can count on us not just to stop the leak, but to properly contain the spilled water (without spreading bacteria and stinking up the whole house like we have seen done by other companies in Phoenix).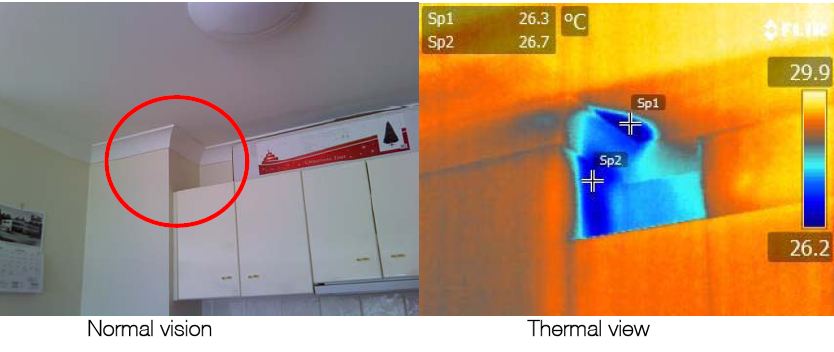 Can we detect leaks better with thermal imaging cameras?
Ask us today about using thermal imaging. This new method is now very popular for home inspections (when a home is going to be listed for sale) and the quality control protocols of many insurance companies.

We can use this method to detect any hidden moisture that has accumulated from your leak. Wet areas will show up cooler (blue or black) so we can clearly see where water from your leak has been absorbed. You won't be able to feel the wetness, but the infrared heat detection camera will reveal the moist areas.

So, we will quickly and precisely identify the source of your leak. Plus, when moisture collects in your wall or floor, detecting it today allows us to prevent rot, mold growth, and other complications of water damage.
Next, what is leaking: your plumbing or your roofing?
This question of detecting the source of the leak is very relevant when there are signs of water on your ceiling. The water could be dripping from directly above because of a leak to the roof. However, be aware that many ceiling leaks are not from the roof. The water may not even be from a leak directly above the dark spot in the ceiling.

Sometimes the water is dripping from somewhere else nearby, like from the water pipes for the air conditioner, and then flowing away from the leak until it starts pooling at a point of resistance (like a corner where two walls connect). In that case, the first priority is finding and stopping the active leak, like in the AC system. After that, you still might need a roof inspection and repairs, but water leaking from the air conditioning pipes can be a common source of leaks, water spots on ceilings, and water damage.
"I only need repair of my leaking roof, not leaking plumbing."
If you have an emergency (especially if it is after regular business hours), you can use the form below (on this page) to contact our supervisor for 24-hour emergency roof leak repair. Or, to learn about our 5-star roof services in Phoenix, click here now: roof leaks in Phoenix.
"My plumbing seems to be the source of the water leak."
The most common leak emergencies in homes and commercial buildings in Phoenix are from the plumbing inside of the building. However, we can also help with plumbing leaks outside, like cracks in the sewer lines, sewage backup, or leaks under the slab foundation of your home.

Detecting leaks (and wetness in walls and under tile floors)
Obviously, the top priority with most leak emergencies is stopping the leak (then removing the water). Also, if the water is contaminated by the contents of a sewer line or toilet (as in human waste), then there are some very important precautions that are worth taking. Your insurance company will typically pay for those precautions and even will penalize you (by denying related claims) if your emergency plumbing repairs are not done with these precautions in mind. But all of that is "just the tip of the iceberg" when it comes to toilet leaks....


The worst-case scenario, which we see occasionally, is that there has been a history of the toilet flooding over repeatedly but no concern for the potential for water damage and resulting mold growth. It takes very little time to check to see if there is hidden moisture under the tile or behind the toilet on the bathroom wall. If there is moisture, you will want to know and next you will learn why.


First, if you have a plumbing leak but have not contacted us yet, we recommend that you contact us now. As for the consequences of neglecting to check for water damage after a toilet leak, the absolute worst-case scenario involves a toilet that is above the ground floor. If there is water rotting away the floor under a heavy item such as a toilet (or a bath tub), what could possibly go wrong?

Well, it is rather rare to see, but as experienced specialists in the emergency restoration industry, we do see occasional cases in which there are multiple sources of structural damage, such as a "minor" fire in an area of a multi-story home that is directly underneath an upstairs bathroom. When old water damage has rotted the strength of the upstairs flooring (and has weakened the ceiling below), then even relatively minor additional damage can lead to a structural collapse. Not only can such a collapse be expensive, but extremely dangerous.

If the toilet crashes down through to a lower level of the home in Phoenix, then that toilet may not be the only thing that comes down! Once the internal integrity is compromised by the toilet falling in to the rotted area, then at least one corner of the bathtub may also drop or sink. Note that the toilet does not need to actually come down and fall all the way through to the lower level for the damage to be extensive. If there is enough water damage, then the weight of the toilet (and tub) may result in sagging or crumpling of the floor- which is far less damage than a collapse, but still requires major remodeling to remove everything that is broken and to replace the flooring and infrastructure between the bathroom tile and the ceiling of the lower level.


In summary, the safe option after a leak in your pipes or other plumbing is to quickly use the proper equipment to determine how much water has penetrated where. If the moisture gets under the tile or the baseboard, it will not be possible to feel the wetness by touching it. So, we regularly use infrared (IR) cameras with thermal imaging to detect moisture after all kinds of plumbing leaks (from AC water over flow to pinhole leaks in ice maker lines).

In the image on the left, we did not find any water damage from under the leaking toilet, but the wall under the sink showed clear signs of accumulated moisture. Fortunately for the home owner in Phoenix, their insurance company paid for a series of tests and a brand new bathroom to replace the damaged walls and plumbing.

Be aware that slow leaks to the plumbing in the bathroom can go undetected for many years before the problem is identified. The wetness of those leaks in the enclosed space of the interior wall of the bathroom can lead to the growth of mold, which has the potential to lead to mysterious health problems (that completely go away once we remove the mold-damaged dry wall).

Be safe. Get the entire area where water has spilled checked (including the baseboards of the bathroom and hallways). If there is an issue, we can measure the extent of it, speak with your insurance company, and help you identify your best option.


Our emergency repair plumbers in Phoenix will stop the leaks in your plumbing, repair or replace any relevant parts, and then safely extract any leaked water (including contaminated toilet water), plus inspect for signs of water damage. If you have any questions, ask us about how we measure for the presence of moisture and water damage in the walls, baseboards, and flooring. Contact us now (and for fastest results, especially after regular business hours, use the contact form at the bottom of this webpage).




Emergency Leak Repair in Phoenix AZ

leak detection & emergency repairs